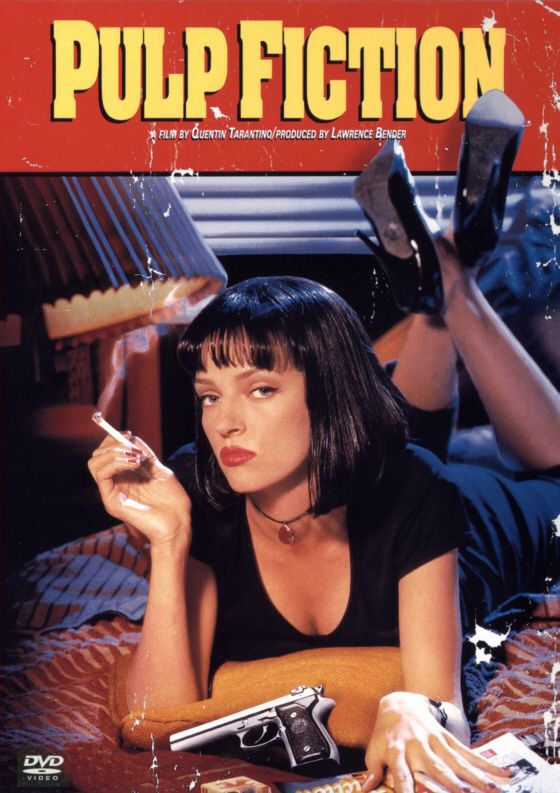 Tarantino's second film after Reservoir dogs is considered to be his greatest yet.
Judging this film by its porno-movie cover one immediately knows this is going to be a controversial film, and the brilliant, just-the-right-amount-of-twisted mind of Quentin Tarantino does not disappoint.
The basic plot revolves around 2 mob hit men played by Samuel L. Jackson and John Travolta, a gang leaders wife by Uma Thurman and a Boxer by Bruce Willis, spiritual transformation, loyalty, drugs and Quarter Pounders. We also have Harvey Keitel, Tim Roth and Quentin Tarantino playing minor roles.
The storyline of this movie is quite unique, it is in fact more like several movies rolled into one epic than a single movie. It is shot in a non-linear sequence, and is neatly demystified at the end.
The plot albeit good, is nothing without the strong dialogue and brilliant performances by the cast.
This is the most "Tarantino" movie you will find, the dialogue is humorous and down to earth, nobody captures the essence of dialogue quite like Tarantino.
It is a movie that has everything, yet is like no movie you'd have ever seen before.
Quite simply the epitomeof film noir.
Tarantinos masterpiece gets a 9.5/10